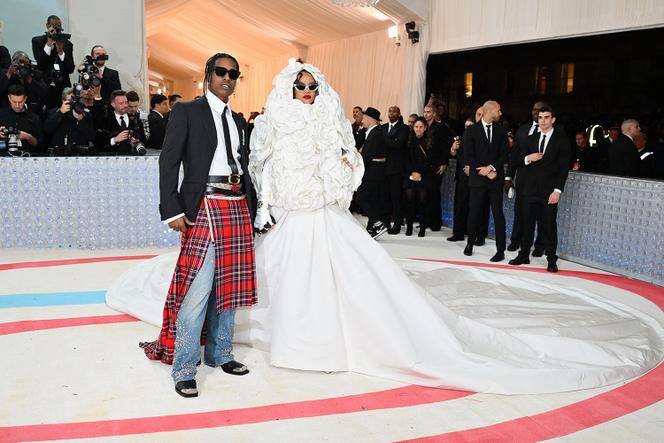 Honoring Karl
On the first Monday in May and for more than 70 years, the prestigious Costume Institute at New York's Metropolitan Museum of Art has held the same ritualistic – some might call it a circus – fund-raising gala to which the fashion and entertainment world flock. The stars, flamboyantly and extravagantly dressed, strut their stuff in the framework of an assigned theme: This year, it was to pay tribute to the late Karl Lagerfeld – for which Rihanna and A$AP Rocky went the extra mile.
Read more
Met Gala pays colorful homage to Karl Lagerfeld
Lady of the Camellias
The singer Rihanna, who is pregnant with her second child, made her appearance covered in camellias, in homage to the fashion house for which Karl Lagerfeld worked for 36 years. The camellia became one of Chanel's symbols in 1913, three years after the fashion brand was founded, when Coco Chanel was photographed on a beach in Etretat, on France's north coast, with a flower attached to her belt. The designer loved it for its aesthetic purity but also for its olfactory neutrality: Like the dahlia, the camellia is one of the rare flowers without any smell.
Black cat
In a nod to Lagerfeld, Rihanna also made sure to hide behind a pair of shades. The designer never showed his eyes and liked to say: "Dark glasses are like eyeshadow. They make everything look younger and pretty." However, as far as we know, he never chose to wear cat-eyes sunglasses with false lashes.
Read more
Martin Scorsese and Timothée Chalamet took the subway. Does anyone care?
Made to measure
On Rihanna's arm was her partner, the rapper A$AP Rocky, who was also sporting a pair of shades, and to reflect the Lagerfeld look, he wore a white shirt with a detachable collar. The designer was never without them, and they were always supplied by the English fashion house Hilditch & Key, on Rue de Rivoli in Paris. They would receive long, handwritten letters with drawings, specifying Lagerfeld's requirements. Each year, he ordered 200 shirts, which he preferred not to wear more than once.
Under the kilt
The gala gave A$AP Rocky the chance to wear a kilt, just as Lagerfeld had done at a Chanel fashion show in 2004. And, of course, while on the subject, the rapper chose to darn jeans under his pleated garment, violating the "going regimental" tradition of not wearing anything at all, as was the case with Highland regiments in the 18th century. To give A$AP Rocky his due, in 2004, Lagerfeld was also dressed under his kilt.
Read more
Kim Kardashian was at the Parc des Princes stadium. Does anyone care?
Related Posts