Editor's Note: Now living in Athens, Mary Logan Bikoff serves part-time as a freelance writer and the guides and magazines adviser for The Red & Black.
---
Entering the joint storefront and studio space is synonymous with cartwheeling into a magnificent vision of color and comfort. Clothing racks spray-painted pastel line the walls, the front counter encased in a seafoam green wooden relief carving.
A wandering customer's peek through an open doorway is rewarded with glimpses of textile bundles, art laid out to dry and seamstresses bowed over whirring machines. The realm of fashion creation is rarely seen and hardly on display, yet at 625 Barber Street, both formulation and final product coexist.
When Adrienne Antonson founded STATE the Label in 2010, over 800 apparel manufacturing establishments existed in New York County while over 2,500 operated in Los Angeles County – a meager one business prevailed in Clarke County, according to data from the U.S. Bureau of Labor Statistics. Yet, after stints in Vashon Island, Washington, Brooklyn, New York, and Thomson, Georgia, Antonson shepherded STATE's hand-painted textiles assuredly into Athens.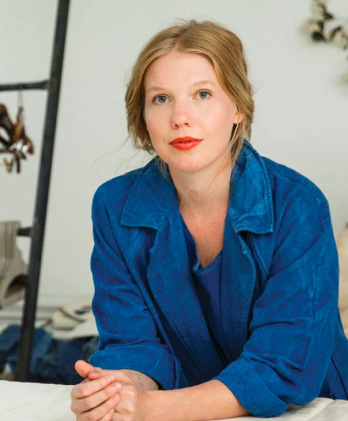 Defining STATE's target market is difficult, as age is not a factor. Whether they're a twenty-something design student or a retiree implementing vibrant uniquity in their wardrobe, Antonson said the wearer's desire to embody authenticity ultimately characterizes the consumer. Free flowing pieces abound, prioritizing forward-thinking silhouettes and patterns with comfort for every size.
Establishing a space functional for both selling and sewing remained essential to the STATE brand. While an estimated 30% of pieces are made outside of the studio in Manhattan's garment district, the majority of collections are hand-painted, airbrushed, stamped and screen-printed in Athens, according to STATE's website. 
A small team of 10 seamstresses and artists produce the garments and home pieces, establishing a striking balance between practicality and individuality. With collections featured both in-store and online, products range from a green, button-up corduroy dress at $260 to a pleated, colorfully striped lamp shade at $375.
Bona fide beginnings
Growing up in Gainesville, Florida, Antonson's penchant for creative expression seeded itself in her '80s childhood. Prominent among distinct memories of various clay structures is her handwrought, four-story dollhouse for her ferrets, complete with a hammock and French doors.
"I don't ever remember my life without [art and creativity]," Antonson said.
Intertwined with an entrepreneurial spirit – Antonson had a business card when she was in fifth grade – she pursued sewing and design in every way possible to avoid a traditional career path. What began as Spinster, a line Antonson launched after college in Charleston, South Carolina, featuring thrifted and repurposed clothing, later evolved into STATE.
In Athens, where she moved in 2018, Antonson said she finds STATE to be understood. Among a community of young, fun Athenians, there exists a mutual appreciation of STATE's work and mission, fostering an atmosphere of laughter and collaboration.
"STATE is what it is because of the people," Antonson said. "The people are here [in Athens]. Nothing exists like this space."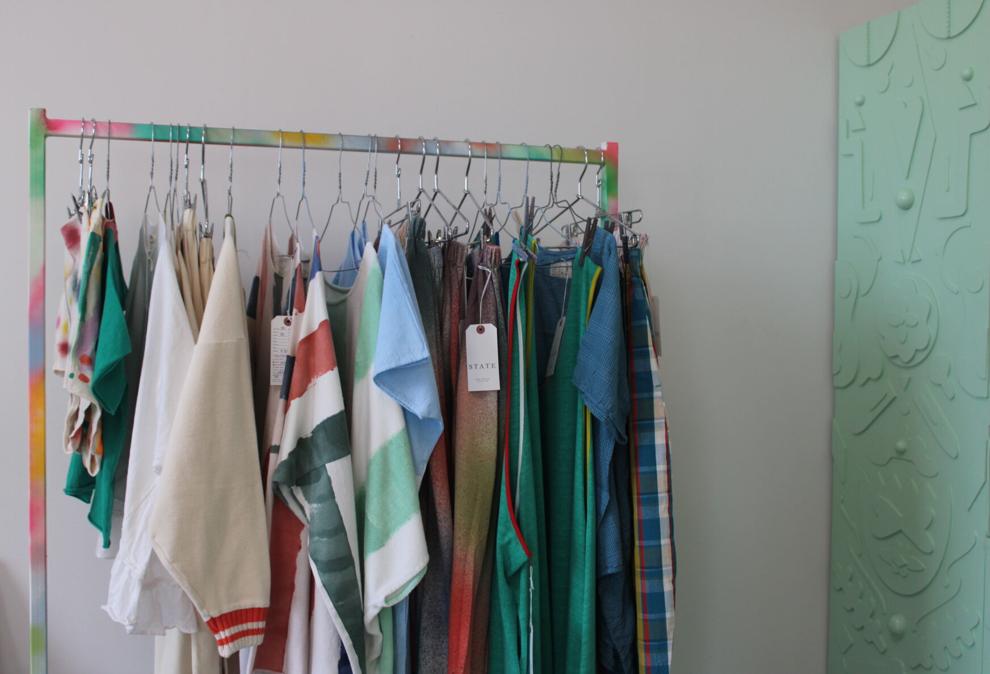 Intentional interiors
A multitude of environmentally diverse concepts originate in the interiors collection. Last year, STATE launched its first decor series, expanding beyond clothing into pillows, mirrors, throw blankets, rugs and more. Antonson expressed how natural the transition into interiors was, describing the feat as similar to "dressing your home." 
STATE is currently planning a new interiors launch for summer 2023, investigating new designs while installing maximalist furniture and lighting pieces in the gallery.
Emphasizing sustainability, the company's mission reveals itself in baskets teeming with cloth and tulle fragments, scrap material used in the creation of items like quilted paintings and plush stools stitched with unused textiles.
Following the mantra, "You have what you need," Antonson said she is inspired by the "potential energy" of materials, aiming to honor each textile through resourcefulness and waste prevention.
This consensus to conserve is a rarity in the design business, as 14.5 million tons of textiles were combusted or discarded in landfills in 2018 alone, according to data from the United States Environmental Protection Agency. 
Abby King, STATE's production manager, joined the brand after graduating from the University of Georgia in 2016. From the inception of an idea to the final product, King oversees every detail along the way, including sourcing textiles from wholesalers that meet the ethical standards STATE values in its organic materials.
In contrast to industry-wide rapid trend cycles promoting overconsumption, the label's smaller size and flexible production schedule differs in its allowance of spontaneous, fluid inspiration. Each piece truly revels in its creation rather than rigidly rebounding from one fad to the next.
"There were phases where we were trying to grow a little bit too fast and it was not a sustainable rate of growth," King said. "We realized it was more important to us to have this great, lovely workplace where everyone feels taken care of instead of forcing this growth that's pushing people a bit too hard."
Mother and maker
Youthful effervescence hums within the bright walls of STATE. Creativity is palpable in its playground of imagination – neon pink spray paint swirls across the art department, mood board collages shroud the studio and design experimentation is encouraged. 
As a mother of two, Antonson promoted opportunities for artistry early and often in her kids' lives – after all, it's hard not to feel inspired when surrounded by such playful expression. Most recently, a mother-daughter girls' night included a visit to the studio to craft the logo and designs of airbrushed T-shirts, a new business venture Antonson's seven-year-old started.
"My kids inspire me endlessly," Antonson said. "They've grown up here [at STATE]. They've never known a world without it."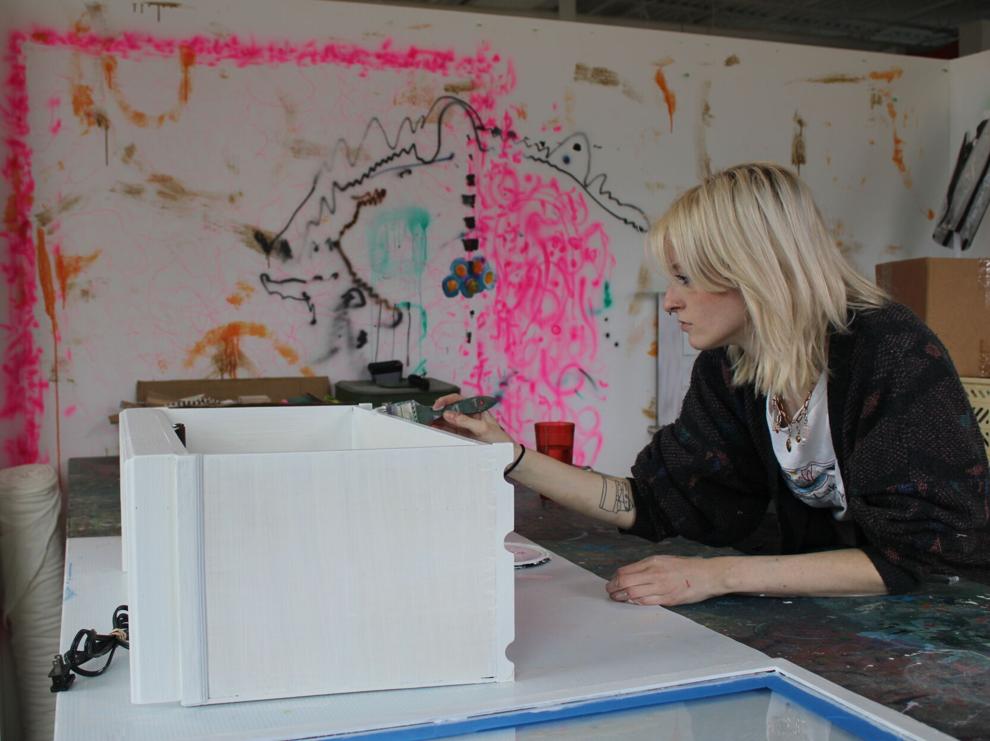 STATE on social media
Mindful curation of both style and space extends beyond STATE's physical realm into the digital sphere. 
Antonson's personal relationship with social media has been anything but love at first sight. She completely deleted Instagram two years ago, citing the heightened anxiety and distraction as reason for the split. Yet post-hiatus, Antonson found herself more creatively inspired than ever, ready to tackle the giant of social media marketing.
The brand's Instagram account, @statethelabel, has cultivated over 43,000 followers and counting, preserving a mirror image of the studio's light aesthetic on their feed peppered with dynamic bursts of color. Traditional shots of STATE's fashion and interior pieces complement behind-the-scenes looks at the production process, while the Instagram story serves as a medium for personalized staff styling.
Antonson now views Instagram simply as a digital portfolio. While essential to the preservation of small businesses in the modern age, social media can simultaneously contribute to mental roadblocks of identity through constant outward observation instead of internal reflection.
"[Since the social media break], I have felt on fire creatively," Antonson said. "I honestly never have felt more creative than I have with the absence of that chatter in my head. I almost can't stop my brain from having ideas, and I think that's because I don't have all that reference material coming in."
Antonson's striking vision for the brand is beyond evident to those who have followed STATE from its early years, including Mary Logan Bikoff, previously the editor in chief of Atlanta Magazine's HOME and a senior editor at Atlanta Magazine.
Bikoff first wrote about Antonson for Atlanta Magazine and The Cut in 2016, describing her immediate appreciation for Antonson's imaginative and creative eye that seamlessly blended high art with fashion and interiors.
"It's different from what people see almost anywhere," Bikoff said. "It's not just different for Athens – it's unique to the world. There's lots of amazing artists and people doing great things with clothes, but I think she has a unique way of combining art and fashion and interiors. I don't know anyone else doing that."
STATE subsequently
Before exiting 625 Barber Street, a visitor encounters a small white room standing vacant to the left of the front door. Beside a tawny wooden mannequin in one corner and a rainbow stool in the other, the intimate space remains empty save a rectangular sign hanging from the ceiling, announcing "The Valton." 
Valton Murray is the artist behind the name, a creator of paintings attesting to stories of his childhood, memories and time in the South. Antonson began selling his work in STATE's store and website after meeting Murray in Thomson, Georgia, where she was struck by his artistic conceptions.
"The Valton," an art gallery featuring a rotating collection of local artists' work, exists as another distinctive area within STATE's walls. Antonson anticipates unveiling a new show for viewers within this season. 
Just as she speaks of the ways in which the Athens community has given to her, so too does Antonson foster a place for STATE to return the kindness. 
"[It's a place] to see things you wouldn't normally see," Antonson said.
On the way out, a dainty chime rings through the air as pastel streamers pirouetting in the wind wave goodbye to each customer. Against the black brick exterior, their twirling vibrancy is a hint, guiding visitors to the enchanting clothing and interiors collections that lie within. 
"I can't imagine life without [art]," Antonson said. "No matter what I did, I would make it art."
Related Posts