originally published: 09/09/2023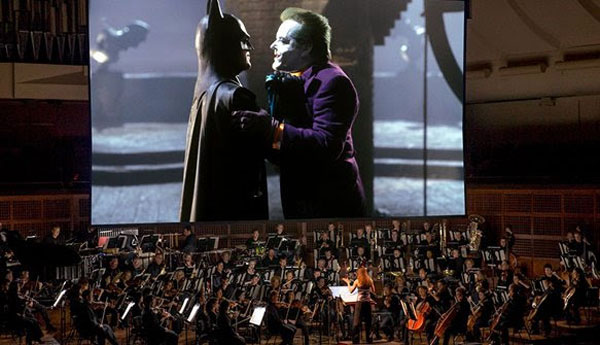 (NEWARK, NJ) — Calling all Batman Fans! You can see a screening of Batman live in concert with the New Jersey Symphony Orchestra at New Jersey Performing Arts Center (NJPAC) on Saturday, March 2, 2024 at 8:00pm. Watch Tim Burton's 1989 film (PG-13) on the big screen as the New Jersey Symphony performs Danny Elfman's score, live.
The Oscar-winning movie stars Michael Keaton, Kim Basinger, Billy Dee Williams and Jack Nicholson as the scene-stealing Joker. Danny Elfman came up with Batman's theme while on a long flight—ducking into the airplane bathroom multiple times to record himself singing the melody so he wouldn't forget. The flight attendants were suspicious, but it became one of the most iconic superhero themes of all time. Dress up in your favorite Batman or DC cosplay for this event—but no swooping through the air, please.
Tickets to see Batman Live range from $39-$89 and are available for purchase online or calling 888.GO.NJPAC (888.466.5722) or by visiting the NJPAC Box Office.
TCG Entertainment, a leader in live entertainment and touring productions, in conjunction with Warner Bros. Discovery Global Themed Entertainment and DC, will bring Warner Bros. Pictures' 1989 blockbuster film Batman to symphony halls around the globe as part of its DC in Concert series. Celebrating the film's 35th anniversary, the Batman tour kicks off January 2024 in Los Angeles at the Dolby Theater and stops in twelve U.S. cities before heading to Paris and London. Guests who attend will enjoy the film projected onto a larger-than-life screen while Danny Elfman's iconic musical score is performed by a live orchestra.
Released June 23, 1989, Warner Bros. Pictures' DC Super Hero film Batman was the top grossing film that year and has remained a fan-favorite for more than three decades. The film was composer Danny Elfman's first collaboration with director Tim Burton and the score was later nominated for a Grammy award. The "Batman Theme" has become an iconic piece, evoking the Caped Crusader for many generations.
Advertise with New Jersey Stage for $50-$100 per month, click here for info
---
"Hot on the heels of our success with our first DC in Concert tour, we are excited to bring the classic 1989 Batman and its acclaimed score to diehard fans and new generations for the film's 35thanniversary," said Stephen Cook, President, TCG Entertainment. "We create an unforgettable concert experience and are proud of the added creativity the DC in Concert series offers audiences to make the night an epic event."
Not your Grandma's symphony, DC in Concert attendees enjoy an enhanced concert experience with spectacular stage lighting, post-event autographs, merchandise sales, and more. Guests are encouraged to dress up as their favorite DC Super Hero. (Please note that "Batman" has a PG-13 rating and runs for approximately two hours.)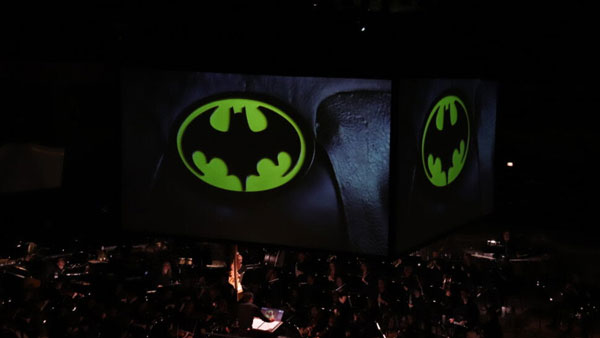 New Jersey Performing Arts Center (NJPAC), located at One Center Street in downtown Newark, N.J., is America's most diverse performing arts center, and the artistic, cultural, educational and civic center of New Jersey – where great performances and events enhance and transform lives every day. NJPAC brings diverse communities together, providing access to all and showcasing the state's and the world's best artists while acting as a leading catalyst in the revitalization of its home city. Through its extensive Arts Education programs, which have reached almost 2 million children, NJPAC is shaping the next generation of artists and arts enthusiasts. NJPAC has attracted more than 10 million visitors since opening its doors in 1997, and nurtures meaningful and lasting relationships with each of its constituents.
TCG Entertainment is a leading producer of creative content for live entertainment properties and touring productions. Owning multiple intellectual properties and partnering with top IP holders and studios, TCG has generated decades worth of live family fun and entertainment. With a laundry list of productions enjoyed by millions of audience members around the globe, TCG is the leading authority in providing brands a visionary, one-stop source for live touring and experiences. For more information, visit TCGENT.com. 
DC, part of Warner Bros. Discovery, creates iconic characters and enduring stories and is one of the world's largest publishers of comics and graphic novels.  DC's creative work entertains audiences of every generation around the world with DC's stories and characters integrated across Warner Bros. Discovery's film, television, animation, consumer products, home entertainment, games, and themed experiences divisions, and on the DC Universe Infinite digital comic subscription service.
MGP Live is an entertainment company headquartered in New York City that specializes in producing and promoting a wide range of multimedia symphony concerts and tours. Fusing the richness and tradition of a full symphony orchestra and choir with breathtaking HD footage from iconic video game franchises, popular films, and other well known entertainment brands, MGP Live is known worldwide for bringing to life the sights and sounds of classic media icons in a concert setting.
Warner Bros. Discovery Global Themed Entertainment (WBDGTE), part of Warner Bros. Discovery Global Brands, Franchises, and Experiences, is a worldwide leader in the creation, development, and licensing of location-based entertainment, live events, exhibits, and theme park experiences based on the biggest franchises, stories and characters from Warner Bros.' film, television, animation, and games studios, HBO, Discovery, DC, Cartoon Network and more. WBDGTE is home to the groundbreaking locations of The Wizarding World of Harry Potter at Universal theme parks around the world, Warner Bros. World Abu Dhabi, The WB Abu Dhabi, The FRIENDS Experience, The Game of Thrones Studio Tour and countless other experiences inspired by the Wizarding World, DC, Looney Tunes, Scooby-Doo, Game of Thrones, FRIENDS and more. With best-in-class partners, WBDGTE allows fans around the world to physically immerse themselves inside their favorite brands and franchises.
ART | COMEDY | DANCE | MUSIC | THEATRE | COMMUNITY
Penn & Teller presents The Foolers

Tuesday, October 10, 2023 @ 7:30pm
Bergen Performing Arts Center (bergenPAC)
30 North Van Brunt Street, Englewood, NJ 07631
category: community
Click here for full description
---
Tuesday Night Book Club – Haruki Murakami's Norwegian Wood

Tuesday, October 10, 2023 @ 7:30pm
Virtual
, category: community
Click here for full description
---
Visiting Writers: Benjamin Nugent

Tuesday, October 10, 2023 @ 4:30pm
Monmouth University – The Great Hall
400 Cedar Avenue, West Long Branch, NJ 07764
category: community
Click here for full description
---
MENOPAUSE THE MUSICAL 2: CRUISING THROUGH 'THE CHANGE'

Wednesday, October 11, 2023 @ 8:00pm
Grunin Center
1 College Drive, Toms River, NJ 08754
category: theatre
Click here for full description
---
George Street Playhouse presents "The Pianist"

Wednesday, October 11, 2023 @ 8:00pm
New Brunswick Performing Arts Center (NBPAC)
11 Livingston Avenue, New Brunswick, NJ 08901
category: theatre
Click here for full description
---
The Sixties Show

Thursday, October 12, 2023 @ 7:30pm
The Vogel
99 Monmouth Street, Red Bank, NJ 07701
category: music
Click here for full description
---
MENOPAUSE THE MUSICAL 2: CRUISING THROUGH 'THE CHANGE'

Thursday, October 12, 2023 @ 8:00pm
Grunin Center
1 College Drive, Toms River, NJ 08754
category: theatre
Click here for full description
---
A Live Conversation with John Cusack and special screening of "High Fidelity"

Thursday, October 12, 2023 @ 7:30pm
State Theatre New Jersey
15 Livingston Avenue, New Brunswick, NJ 08901
category: film
Click here for full description
---
---
For more event listings, click here
---
Related Posts