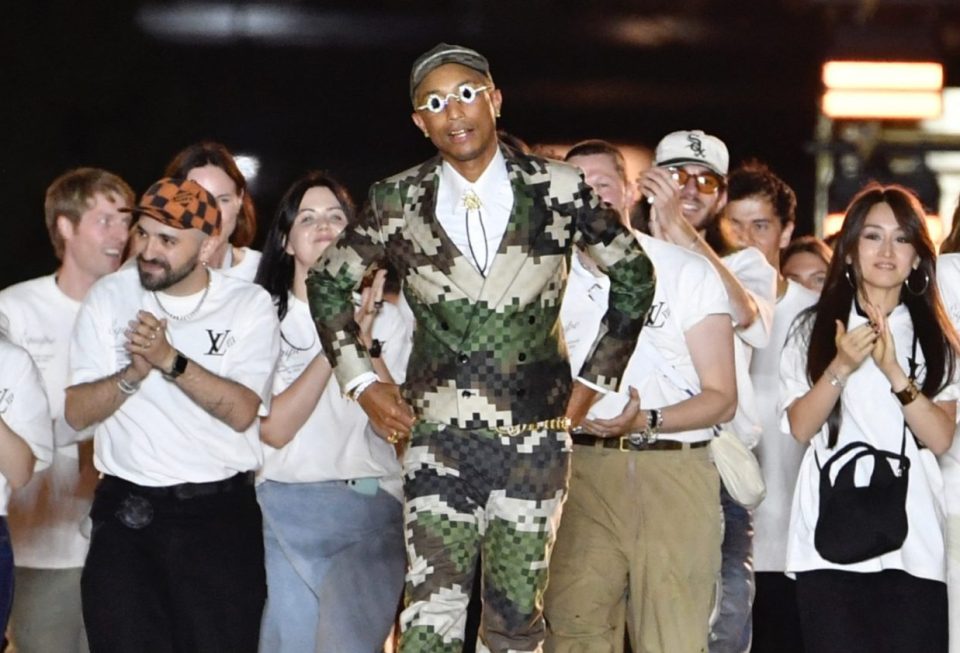 Pharrell Williams has a recording studio in his clothes design hub to keep him inspired.
The 50-year-old rapper debuted his first collection for Louis Vuitton in June after being appointed the brand's creative director of menswear, by turning Paris' oldest bridge, the Pont Neuf, into a catwalk during this year's Paris Fashion Week.
He told The New York Times Style Magazine about how he constantly flits between his music and clothes design: "Being a producer and a creative director are similar. I can go from apparel to drums, from trunks to melodies. Within my design studio, I have a section allocated to music, so I go back and forth all day."
He added about his Louis Vuitton appointment: "It's like I'm a perpetual student. If I'm the king of anything, it's the king of being a pupil… being surrounded by so many talented people is the best. I mean, I'm an Aries, so I've always been super impulsive. But without the resources and the people, I'd be just like every other person with a great idea."
He said about where he draws his inspiration from for designs and music: "Japan is my favorite place. On my 50th orbit, I had a birthday party organized by Nigo [the Tokyo-based artistic director of Kenzo and hip-hop producer]. One of the most amazing gifts is his presence in my life. Twenty years ago, I needed to go to Japan to record something, so Nigo arranged for me to come to his studio, which is basically a compound on five floors of a building. One floor is a showroom, one is a photo studio, another is a recording studio, and I was like, 'Wow, this guy lives what's in his head.' That changed me. I was so used to bragging because that was the world I came from. And then I met Nigo, who barely said anything. He didn't have to. Humility is in the Tokyo air like the humidity in Virginia."
He added: "I love watching movies to escape. But the funny thing is, I couldn't tell you from what. My favorite movie is Close Encounters of the Third Kind. I relate to Richard Dreyfuss' character and the alien."
Since taking the Louis Vuitton job, Williams — born Pharrell Lanscilo Williams — has been working out of a studio in the LV headquarters across the street from the Pont Neuf in Paris' 2nd arrondissement.
He previously told GQ about being given carte blanche at the fashion house to produce whatever work he wanted: "They just gave me the keys. You never really hear, 'No.' And if it's 'no' it's because something is not possible. But then they're off in the distance trying to figure out how to engineer around it, or make something bigger."
Related Posts