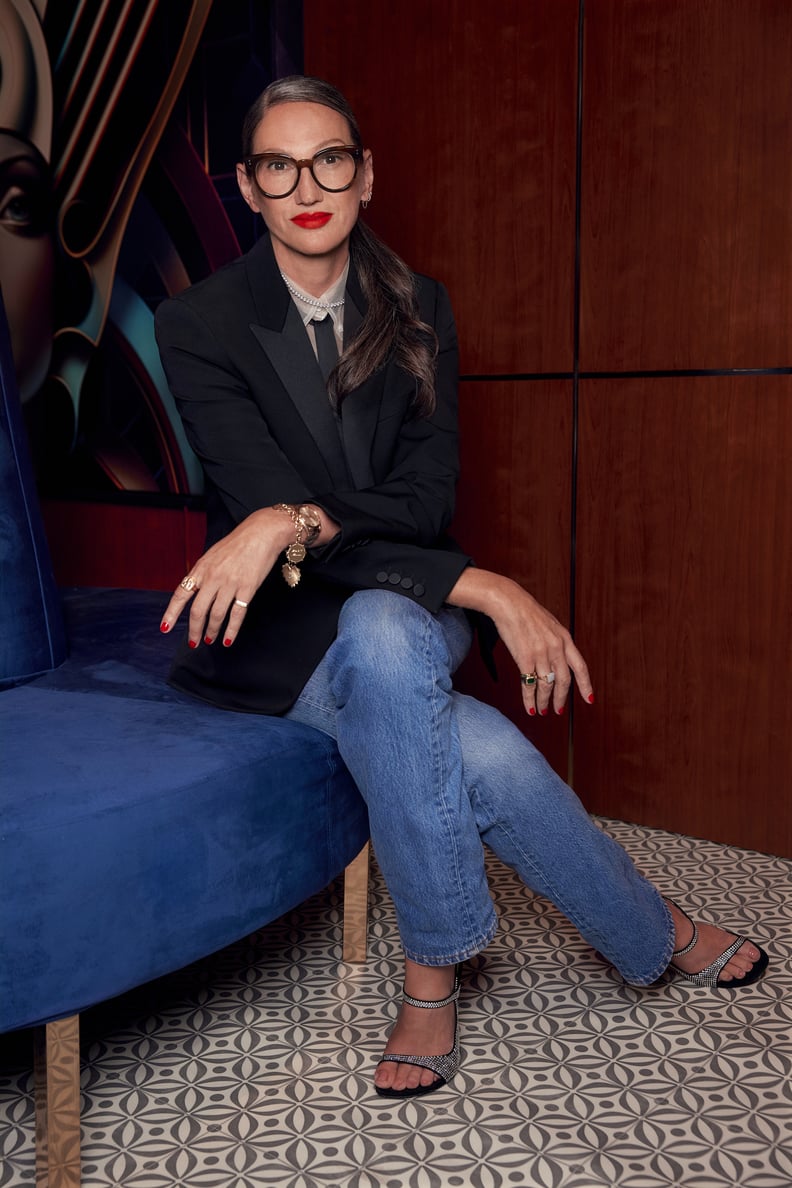 Clifton Prescod/Bravo
Clifton Prescod/Bravo
As soon as the first photos from "The Real Housewives of New York"'s reunion hit the internet, people were up in arms over Jenna Lyons's look. On Sept. 27, the cast picture for the anticipated reunion was released, and several fans seemed disappointed by the fashion designer's sartorial choices. The look in question? A black blazer, a sheer button-up shirt paired with a black tie, and — here's the shocker — jeans. "Denim, of all things?" "How is that dress code appropriate?" "I thought she was a fashion icon," some of the comments read.
According to Bravo, the blazer and tie were from Saint Laurent, and the sheer blouse was designed by Thom Browne; Lyons finished the look with Dries Van Noten heels and Levi's jeans. SLP, Thom Browne, Levi's, and Dries — does it get any more fashionable than that? But jeans were somehow the point of contention.
"The reunion — yes, I wore jeans, and I am not sorry," Lyons captioned a now-expired Instagram Story. Somehow, jeans are unfathomable for a reality TV show reunion. When the first Real Housewives reunion premiered in 2006 (for "The Real Housewives of Orange County"), the dress code was very casual — replete with wedges and gauchos, and housewife Jeana Keough even wore a tank paired with jeans and heels. Then, in 2008, at "The Real Housewives of Atlanta"'s reunion, the dress code became more business casual, with tunics, leggings, and cowl-neck sweaters. Somewhere between then and now, the expectation has shifted to ornate gowns with sequins, feathers, and all the finery. And while the ladies look glamorous and red carpet ready, I question if that format allows each cast member's style to genuinely shine.
While the ladies look glamorous and red carpet ready, I
…
Read the rest
The Kentucky Derby isn't just a famous horse race, it's also a nonstop fashion show.
Since its inception in 1875, the annual event has become synonymous with bold dresses, pastel seersuckers, and a sea of over-the-top headwear. The Real Housewives of Atlanta's Sanya Richards-Ross got a first-hand look at this year's ensembles when she served as a fashion/lifestyle reporter alongside NBC News' Dylan Dreyer. And, of course, she completely nailed the derby aesthetic.
The four-time Olympic gold medalist kicked off the weekend in a light pink midcalf dress with a square neckline, capped sleeves, and an all-over floral pattern. Sanya rounded out the charming look with a pair of metallic strappy heels and a gorgeous matching headpiece by Derby Dianas, a millinery shop located in Louisville, Kentucky.
"Today at the [Kentucky Derby] we wear pink," she captioned an Instagram of the Day 1 outfit, "and as always, rock incredible fascinators."
It was clear Sanya wasn't the only one who got the pink memo. The spring-ready color completely dominated the weekend, as it appeared in sundresses, hats, and even men's suiting. Sanya and Drew noted that pink has been a longtime staple in Kentucky Derby fashion, but was taken to a whole new level in 2023.
"We expected pink, but what we didn't expect was so much hot pink," Sanya said during a style report segment. "It's been a really beautiful trend to see all the women rocking their hot pink … We're so used to men traditionally being in black suits, blue suits, but not today. Men get a chance to express themselves in pink suits, and I live for it."
Sanya returned on Day 2 with more stunning looks. One was a below-the-knee floral dress with a structured fan neckline and cascading ruffle details. She accessorized
…
Read the rest