If a literary legend is living in one's corner of the country, what might be the best way to celebrate them and their important artistic legacy? If the legend in question is Tom Robbins, might as well declare him royalty. 
That's exactly what some folks in La Conner have done. Saturday, Sept. 2 will be a celebration of the beloved novelist with a "King for a Day" gala featuring a parade, art exhibits, "gifts and gaiety" and a raffle to support reading programs at the local library. Participants are encouraged to come dressed as their favorite Tom Robbins character or "as crazy as you want in his honor." Robbins will not be available for personal photos or signings, and event organizers did not confirm if the author would even attend his celebratory event. 
How did it come to this?
Robbins, 91, was born in North Carolina in 1932 and moved to Seattle in 1962, where he began his writing career as an art critic for The Seattle Times — later discovering his authorial voice composing a review of a Doors concert. Robbins eventually wandered north and settled in La Conner in 1970, and has lived perched on top of the hill above town more or less ever since. 
In the meditative, moody environs of the Skagit Valley, Robbins crafted most of his novels, including "Even Cowgirls Get the Blues," "Jitterbug Perfume" and "Skinny Legs and All." They have gone on to sell millions of copies and been translated into many languages, garnering Robbins a worldwide following.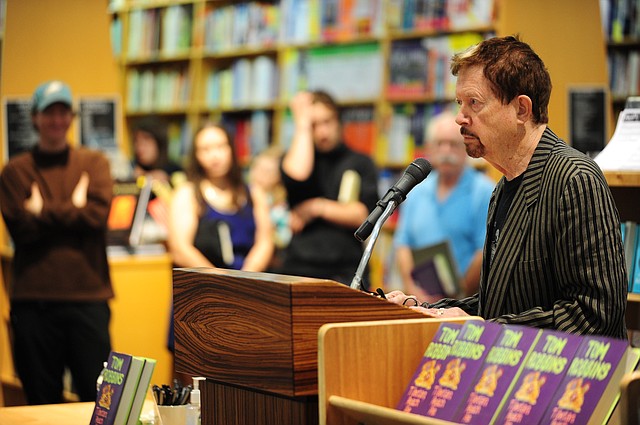 Robbins has also published a collection of short stories and essays with "Wild Ducks Flying Backward," the novella "B Is
…
Read the rest